Current Exhibitions
November 16, 2023 to March 13, 2024
Kyujin Yamamoto: Transition of a Singular Poetic Spirit
We present this exhibition of Kyujin Yamamoto, an outstanding cornerstone of our collection. A founding member of the postwar Nihonga circle of Sozo Bijutsu, he strove to create works with a powerful sense of life that were relevant for the times, with significant transformations of style. The works are so permeated by a singular poetic spirit that they sometimes are referred to as "poetic paintings." Drawn from our 170-piece collection of Yamamoto, over 40 works from early to late in his career are offered for your viewing pleasure.
Kyujin Yamamoto 1900–1986
Born in Tokyo's Shitaya area, Kyujin Yamamoto passed away in Hiratsuka City, Kanagawa Prefecture. After graduating Tokyo School of Fine Arts, the young artist enters Konohanasha painting circle hosted by Eikyu Matsuoka. While submitting works to Teiten and Bunten exhibitions, he submits works to Rusoga-sha, which he formed with Eikyu Matsuoka disciples like Yasushi Sugiyama. In 1948, with the aim of freely creating "Nihonga based on universality," he formed Sozo Bijutsu (predecessor of Soga-kai) with Kenji Yoshioka, Shoko Uemura, et al., was active as its central member, and led the postwar reform movement of Japanese paintings. His perspective in the early years evoked a clear and modern Yamato-e style, but after the war, Yamamoto developed a sturdy style shaped by a modern sense of form. Later in his oeuvre, he painted emotional landscapes achieving a rich lyricism with gentle brush strokes. Awarded Order of Cultural Merit in 1977.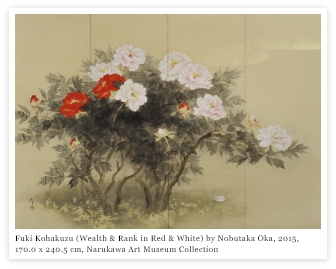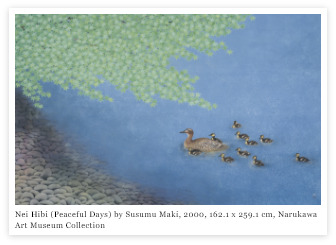 The Sparkling World of Nihonga: Homage to Kyujin Yamamoto
Here we present the work of those who shared the same aspirations as Yamamoto and aimed to create a new articulation of Nihonga. From our museum's collection, works of the following painters who formed a bond with Yamamoto, and those who have carried on his artistic spirit, are exhibited along with their memories and anecdotes: Kenji Yoshioka, Tatsuo Takayama, Kazuho Hieda, Takehiko Mori, Komei Kondo, Yasuo Ueno, Matazo Kayama, Yasuji Horikoshi, Yoshiyuki Nakano, Reiichi Tsuchiya, and Senren Matsushita.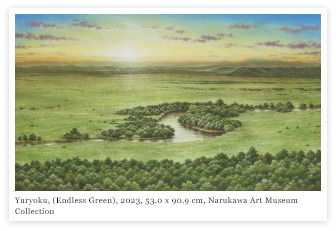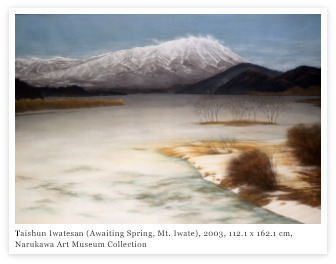 Flowers of Joy Expressing Life's Brilliance
Exhibited in addition to Susumu Maki's 12-meter wide masterpiece Saiki Juen, depicting camellia, are contemporary Nihonga of flowers expressing a joy matching the New Year season. Shown are works by such evocative artists as Tadao Okazaki, Shigetomo Kurashima, Hitoshi Kobayashi, Shohei Takasaki, Chinami Nakajima, Reiji Hiramatsu, Fumiko Hori, Susumu Maki, Rieko Morita, and Emiko Yuguchi.